Our Clubhouse
at Ellesmere Golf Club.
Ellesmere Golf Club has undergone a number of re-developments since its official opening back in 1913. The current clubhouse was completely rebuilt in 1996 around the existing interior and now overlooks the picturesque 18th green. The Clubhouse is a single story building featuring a Main Lounge, Ladies and Gent's rooms with access to all members and Ladies and Gent's locker rooms with shower / toilet facilities. The Gent's locker room and shower / toilet area was refurbished to excellent high standards in 2004. Recent developments in 2011/12 have seen further refurbishment of both the Ladies and Gent's rooms and the main lounge ready for the Centenary year. The clubhouse, with its extensive members' and visitors' facilities including a lounge bar, restaurant, snug, and snooker room, enjoys views overlooking the 18th green. Visitors and members alike can enjoy the challenge of playing a course that is in immaculate condition as well as the excellent social facilities on offer. The snooker room hosts a full size table adding even more enjoyment to your visit. Enjoy a game of snooker and a chat in the the quiet surroundings of the snooker room. Aside from the welcoming and congenial atmosphere, the refreshments menu is excellent and the bar well stocked. We offer a variety of catering packages that can be tailored to your group.
Receptions & Parties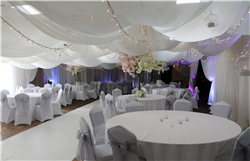 Ellesmere Golf Club is the ideal setting for your Wedding Reception or family party. Its large lounge means that we can cater for up to 160 diners. A stage and dance floor means there are ample opportunities to further enhance your celebrations. For further details contact the Steward on 0161 790 2122.
Seminars & Meetings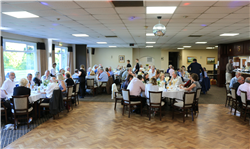 Ellesmere Golf Club provides easy access next to the M60 and East Lancs Rd A580, for all your clients and customers. We have a large screen for all your presentations together with audio facilities to further enhance your seminar.

Ample car parking and clubhouse facilities mean we can cater for any group up to 160.

Contact the Secretary on 0161 790 2122.
Bar Opening Hours March-October 2021
Monday 12.00 noon -11.00pm
Tuesday 12.00 noon - 11.00pm
Wednesday 12.00 noon - 11.00pm
Thursday 12 noon - 11.00pm
Friday 12 noon - Midnight
Saturday 11.30am - Dark
Sunday 12 noon - 5.00pm

The Clubhouse closing time will be 30 minutes after the Bar is closed.
The Bar will remain open during the Winter months at the weekend for competition days and events. Closing times will then be at the discretion of Council